【HIGH EFFICACY & HIGH YIELDS】 Equipped with 2688pcs Samsung LM301B and Osram 660nm diodes. 730 watts and outputs 1920µmol/S, achieving an amazing efficiency of 2.8µmol/J, promising you maximum yield and profit.
【FULL SPECTRUM】3200-4200K Warm White Light, 4800-5000K Blue Light, 650-665nm Osram Red Light), provide perfect spectral output for all growth stages, boosting your plant grow faster and healthier.
【DIMMING DAISY CHAIN】 SE-7000 supports connecting up to 15 lights to work together, all lights can be controlled with one controller. Besides, the dimming function can be adjusted according to the different stages of the plant.
【UNIFORM PPFD OUTPUT & HEAT DISSIPATION】 The 8-bar LED growing light with a large coverage footprint(Recommend 150x150cm for Personal Flower footprint and 120x120cm for Commercial footprint), also provides uniform PPFD output. Passive-cooled bars, aluminum heat-sink, and excellent Meanwell driver perform better in heat dissipation & lifespan.
【Quick Response After-sales System】24 hours reply,  5-year warranty as well as 30 days return policy. For more details, please check: Warranty   Return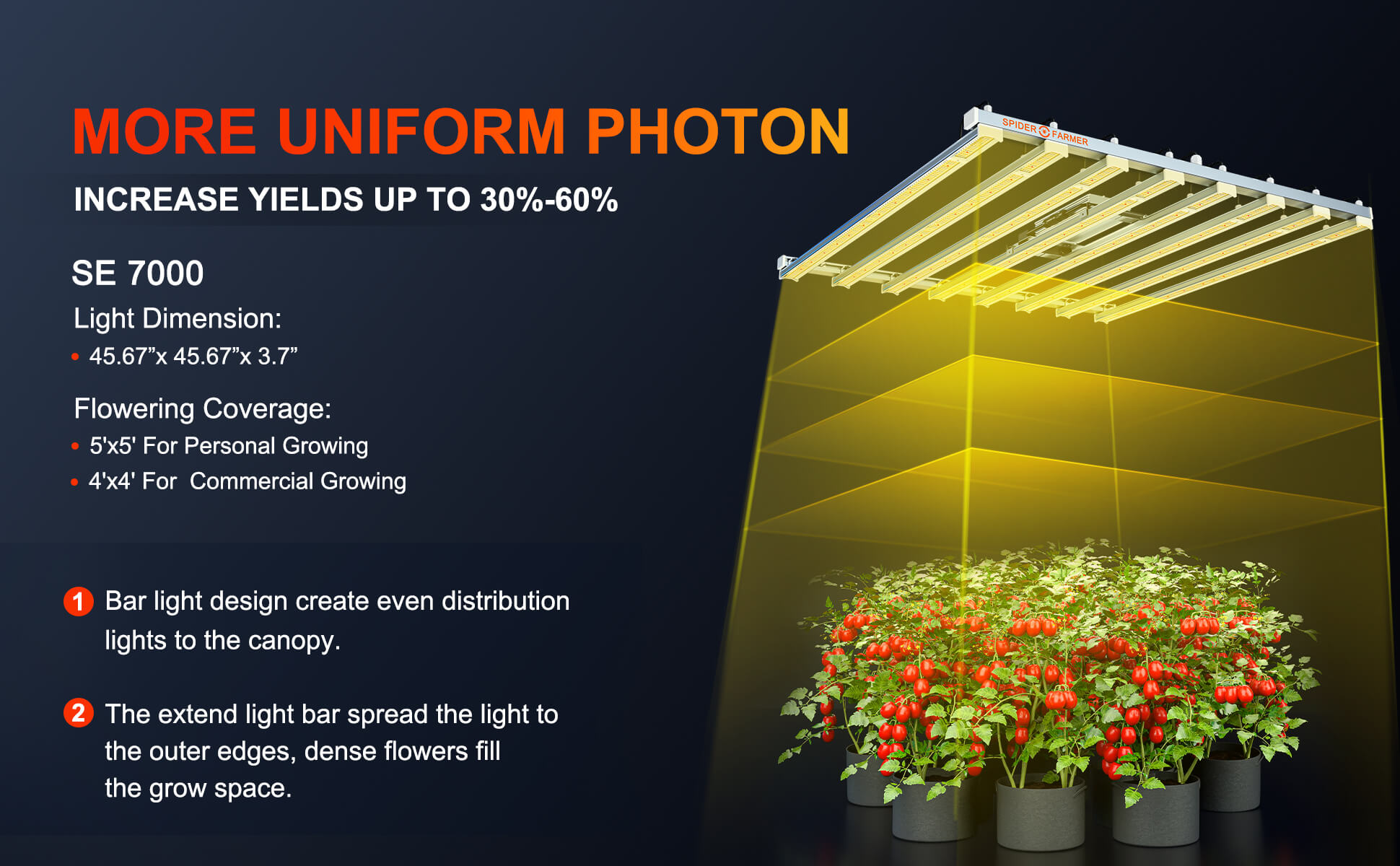 Product Specification:
Model Number: 730W SE-7000 Led Grow Lamp(8 led bars)
Light Souce: LED
Par Value: 1920umol/S
Lumen: 121336Lm±5%@AC120V  121160Lm±5%@AC240V  121088Lm±5%@AC277V
Power draw: 730W±5%@AC120-277V
Input Voltage: AC100-277V
Amp: [email protected]  [email protected]  [email protected]
Frequency: 50/60HZ
Working Temperature: -20-35℃
The Total Amount of LED: 2688Pcs
 Lifespan: 50000H
Noise Value: 0dB
Core Coverage: 120*120cm
Max Coverage: 150*150cm
Light Size: 1151*1151*77MM
Package Size: 1178*310*265MM
Net Weight: 12KG